Tonight as I was lying in bed next to my 5-year-old daughter, feeling her warm body squirm and tug and nestle in, I was reminded of those long nights so many years ago, when I would hold her, tears running down my own cheeks, desperate to calm my baby's screaming, rigid body.
Our sweet Sara Beth, who had been a snuggly, smiley baby, woke up one night when she was about 5 months old, screaming.  Any kind of screaming in the night instantly jolts a mother from her bed, running straight to the source.  That first night, and second, and third, I was frantic to figure out what was the matter.  Then, I noticed sometimes she would scream the same inconsolable way in the daytime, too. 
No matter what I tried--burping her, changing her diaper, holding her, rocking her, singing--nothing seemed to help.  Sometimes, my husband would even buckle her in the car and drive around at 2am, just to give our household some relief.  Sara Beth screamed for about 30 minutes each time.  Looking back, 30 minutes doesn't seem so long.  But, I remember at the time, 30 minutes of full-out screaming--not crying--seemed like pure hell.  Like when you've been coaxed onto a crazy ride at the fair that you didn't really want to ride in the first place, but suddenly you find yourself being locked inside the cage by the carnival worker.  Then the angry music begins pounding your ears, the suffocating air begins rushing past, and the squeaky cage begins turning upside down and upside down and faster, and the music speeds up and all you can think is, "Oh God, when will this thing stop please make it stop I cannot stand it one more minute if I can just get off I will never ride anything like this again please please please make it stop."  But, only this time, it doesn't stop for 30 whole minutes.
There seemed to be no real rhyme or reason behind her schedule of screaming.  After one middle of the night episode, my nerves were too jangly yet to sleep, so I sat down in front of the computer, searching for answers on Google.  (A mother's best middle-of-the-night friend!)  Finally!  Finally, I saw the words, "Acid reflux, or GERD--Gastroesophageal Reflux" and realized that just might be Sara Beth's problem!   Surely that was it!  Because the symptoms lined up perfectly--especially the part about her starting to spit up large quantities after every feeding.  I just had not put the two symptoms together until then.
That night, I learned first-hand how knowledge is power.  Especially when screaming babies are concerned.  In that dark room, by the light of the glowing monitor I read and read all I could about GERD in babies.  I hopped from one website to the next, searching for remedies to help my sweet baby.  I scratched a few notes on the paper beside me... "Hold upright for 30 min after feeding, thicken bottle feedings with cereal, elevate head in crib, try solid food..."
Walking back towards bed that middle of the night, I felt relief.  Even though our baby was already sleeping peacefully in her crib, I felt like I had just helped her.  I turned and tiptoed into her room, watching her pink fuzzy jammies rise and fall with her breathing, her thumb perched nearly out of her pursed lips, her eyelashes fluttering a bit.  Oh, how her sweet slumber reflected the peace I felt washing over me, reminding me I now had ways to help her.  Now, I felt ready for the next time.
Waking up that next morning, I was ready for action!  Any formerly helpless mother knows the energy derived from having a plan of action.  I began right away thickening her formula with a bit of rice cereal, and vigilantly holding her upright for 30 minutes after each feeding.  I was also sure to feed her sitting up in her carseat, and not lying in my arms.  For a time, I had her sleep in her car seat--so she would remain upright the entire night.  I felt a guilty for not allowing her to stretch out her little body in the bed at night--but honestly?  She slept amazingly well in her carseat!
She still had screaming fits once or twice a week.  But, just knowing the why of the screaming set me free.  Finally, I was able to hold her, rocking back and forth, shushing in her ear as only a mother can do--and know I was helping her.  I was helping her endure the pain, showing her comfort in her mama's arms and with my soft voice shushing and singing little songs, helping her survive the 30 minutes of discomfort.  Showing her tangibly Mama's always here, Mama will always do whatever it takes.  Mama will work and work to solve it.  To help.  To be there, always.
This is a true story, although the subject matter theme was chosen from one of Mama Kat's weekly writing prompts.  Hop on over to check out some of the other amazing entries!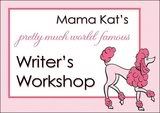 Linked up with: