I just love the gift-giving time of year!  I work really hard to find thoughtful gifts that will delight my family and friends.  Sometimes, though, I struggle.  I especially love giving gifts that are not only fun, but are also useful, and help fill a need.
I gathered together some of my own favorite practical and fun gifts, in case something here inspires you as you finish up your own Christmas shopping...
Happy shopping!  Be sure to leave yourself some hot cocoa and bon bon time as you're rushing about!
1.  Boot Shapers - This is a must-have for boot owners!  One of my favorite organizational finds last year.  Most recently, I found a fun hot pink pair (they make me smile!)
2.  Jar Opener - We bought this handy little gadget for my mom last year.  At first she thought it was a silly thing...until she used it.  Now, it is one of her FAVORITE helpful tools in her kitchen.  This gift wonderful for those that don't have as strong a grip anymore.
3. Steam Mop - Woo hoo!  I do believe Santa has a Shark Steam Mop under my tree this year!!  I am proud to say that I actually wore out my last one.  This time, I am going to use only distilled water in mine--I think our mineral-rich well water clogged the steamer over time.
4.  Peppermint Soap - I LOVE using peppermint / rosemary mint soap in the shower, and it's something I don't always splurge on for myself in my normal grocery shopping routine.  (Plus, it's not a product I can always find at the grocery.  My most recent find was at Bath and Body Works)
5.  New Perfume - I know it sounds strange, but I still wear the same perfume that I wore in high school.  I figure when you find a good thing, why change?  This is a luxury gift that I always appreciate receiving.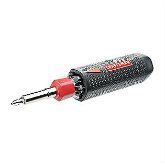 6.  Craftsman Multi-Bit Screwdriver - Pure brilliance in a screwdriver--every bit you need is right there--and built-in!  A friend of mine has this $20 all-in-one tool, and the minute I first saw it, I went straight to Sears.com and ordered 3 of them for gifts this Christmas.  SHHH!  Don't tell!  This tool is cool, cool, cool.
7.  New Pajamas - This is something I typically don't splurge on for myself.  By the time I've bought all the necessities for 2 growing girls at our house, I don't always feel like I have money left over to buy myself new pj's.
8.  Vera Bradley Duffel Bag - A sweet family friend gave me a quilted duffel bag she'd made for my own high school graduation, and I used that thing every single time I went home...for years!   Vera Bradley's duffel bags are the next best thing to handmade, and are the perfect size for a quick weekend pack and go.  It's one of my favorite things to give graduating girls.  To make it even more special, I get it monogrammed.  (The Grand Traveler is the one pictured--and it's my favorite!!  However, there are less-expensive models available, and just as wonderful for weekend travel.)
9.  Salon Shampoo and Conditioner - Another luxury I don't always splurge on for myself.
10.  Favorite School Hoodie Sweatshirt (Go Hogs!) - A good pullover hoodie is like a old friend...without the good gossip, of course.
11.  New Socks - I know this seems silly, but I love getting fun socks!  Either whimsical ones, or cushy new running socks--a new sock makes my toes smile.
12.  Interesting Books - Always!  If you absolutely don't know which book to buy, an Amazon gift card is always a beloved gift.  But, there's just something special about receiving a book someone else loved and wanted to share.
13.  Devotional Book - I got this little devotional book last year because my cousin wrote a couple of the devotions (Hi, Rachel!!), and it has been one of my favorite, and most meaningful things this year.  
All right--your turn!  What are some of YOUR favorite practical gifts to receive?