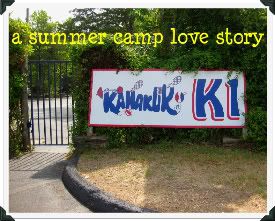 In honor of our 20th wedding anniversary, I decided to write about our love story. Please join me as I tell A Summer Camp Love Story.
And because I cannot seem to tell a story quickly, I've split it into parts. I'll continue adding to it, until I finish. Or, until Christ comes back. Whichever comes first. Amen.
Part 1--Our Love Story Starts with: A List
Part 2--A Girl on the Boys' Side, and a Boy on the Girls' Side
Part 3--A Dance...with a Promise
Part 4--Questions, Goodies, and Boat Rides
Part 5--One Fateful Boat Ride
Part 6--Waiting on our First Date to Happen
Part 7--Who's Sammy Lane?
Part 8--Okay, I'm Sure Now
Part 9--There was a lot of smiling, and honesty, and heart pounding...
Part 10--Some Skunks, a Gun, and a Flashlight
----------------somebody took a loooooong break between writing------------
Part 11--The Summer Camp Love Story CONTINUES!
Part 12--Two Firsts: Meeting the Parents, and Making them Mad
Part 13--The Beginning of a Long Distance Relationship
Part 14--Long Distance: Frequent Flyer Miles and High Phone Bills
Part 15--Holiday Plans, a Hunch, and 23 Different Outfits Later
Part 16--A Rainy Day Pity Party